Last week I wrote 10K+, mostly because I had a false start on the Anthology Workshop assignment. I wrote a full story before finding out it was too long and not "right". So I rewrote it shorter and snappier, and sent it out with not much room to improvise more. This week is the last assignment, so afterward I can go back to other projects, on hold since the Holidays.
After closing the year with Silvery Earth Kids, I started the new year with a Sunday Strip on Instagram. This is set in the Star Minds Universe, during Kol-ian childhood (and Ker-ris's teens), and comes out every Sunday. I will soon do a Backstage Pass special entry for this particular strip. And you can already read the first 10 in I like my science mad, an awesome collection of stories that I already recommended reading.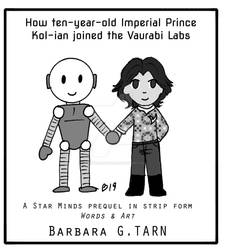 And if you see an "intruder" on Instagram, it's because Da Muse is on Instagram but not on DeviantART. Besides, I accidentally switched on Eclipse on DA and totally hated it. I was so happy to find the way back to the old site, but by then I had already posted my "good-bye, DA".
The strips go on Instagram, and I don't do many pencil drawings anymore (there are, of course, exceptions like the above), so I go to DA only for the llamas by now, LOL! But hey, I got 500+, I'm a Ninja Llama! 😀 So Barb the Artist is more on Instagram than DeviantART these days, just so you know…
And now, to more news:
We should all get back to blogging.

– Chuck Wendig
I totally agree with Mr. Wendig, even though this poor blog here is only ten years old, but then, this side of the world is behind the US! 😉 As you probably know by now, I'm not on Twitter, and I use this blog as a newsletter after Mail Chimp changed its ToS. It still finds new followers (hello, there!) even though I don't advertize it and only share it on Facebook and the Goodreads and Amazon feeds.
So yeah, even those of you who have never done it, try it. It's fun. You don't need to post daily, but be consistent. I'm still on WordPress, but eventually I'll move to the publisher's site. Maybe. If it's not to complicated, that is. I'll have to consult with my webmaster, LOL!
Another interesting article about no sales or lackluster sales. Yes, it might be the book. You might either need to write more, or maybe you only need to let your book baby grow, like in last week's post.
And of course you should let go of your fear of publishing. I haven't taken up that challenge, because for me too it would be slowing down. When I'm ready, I can publish a book every two weeks, like I've done in the past years.
New followers of this blog might not know, but I never did NaNoWriMo. I write all year long. It's good to get in the habit of writing regularly, but it's not something I ever needed. I was already a prolific writer, long before the internet.
I grew up in the age of the typewriter. I still have notebooks full of handwritten stories (that suck and will probably stay were there are for the time being, but you get the point! 🙂 ) and I did my first draft longhand until 2014 because otherwise it didn't feel "mine"…
And when I took that step out of the way, I wrote even more, of course. Clean first drafts that get sent in batches to my faithful editor who tries to catch those pesky typo faeries, but sometimes they escape both our pairs of eyes. Tricky buggers, aren't they? 😉
That's an expense I'll never get rid of, though. I know I need a proofreader and possibly first reader who catches plot holes and inconsistencies. Heck, I should probably use one in Italian as well! 😀 And I'm talking about my fiction, here, not this very blog who comes to you unsupervised by any editor or proofreader… 😉
During the past years I started posting those writers' quotes, five at the time. This is how it started:
Both "writers on writing" and "words of wisdom" can be shortened with the same word. Thus, welcome to WoW Saturdays, June to September 2010. Enjoy this collection of writers quotes throughout the summer.
Then it became kind of monthly whenever I didn't have anything better (or as a Sunday Surprise). Now, ten years later, having reduced the number of posts again, I thought I'd make it a steady feature and add one single random writer's quote at the end of these weekly posts, starting today.
One last link… Australian Comic Creators Unite to Raise Funds to Support Fire Victims! Sign up to get news about this!
Back to writing now. And publishing when I'm done with these submissions. Stay tuned and have a great week! 🙂
The key really isn't avoiding burnout. The key to surviving as a writer is learning how to sustain a career.

And that's true not just for indie writers, but traditionally published writers as well. Some of the demands traditional publishers put on their bestselling writers make the actual writing impossible.

Writers in traditional settings have to learn how to say no.

Writers in an indie setting have to figure out their priorities.