Okay, where do I start from? Apple lateness? Kobo slowness? DriveThru bundles? Okay, I got the email from D2D that the Snippets finally went live on Apple (US i-bookstore), so yay! 🙂 But I don't have much hope for the titles uploaded during the weekend…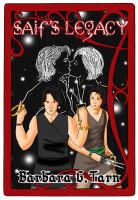 Let's start with the new and last release in English for this year: Saif's Legacy. It's now available on Smashwords, Kindle, B&N and Kobo. Apple probably next year – like I said, they're backlogged, so I didn't even try to send the Italian title (Technological Angel) there.
Saif's Legacy is a Silvery Earth novella that I wrote in a week while in London and immediately after. Blurb: The southern kingdoms are no more, but the Assassins' Guild is still there – honorable men who would never hurt women or children. Saif has been living as a woodcutter for fifteen years, but on his deathbed he calls for his former apprentice, Kilig. Saif's legacy – his son Hakeem – will avenge him, and possibly mend Kilig's broken heart.
If you'd like to wait, next year I'll publish an anthology (with a much better cover) with all the male lovers of Silvery Earth stories. The cover is in the making, and hopefully in January it will come out. It will include The Death of Queen Amazonia, The Lords of War (included in TSK2 at this time), Saif's Legacy, Allan de Sayek and a new story, The Young King. But this is the only one with a HEA, so grab it now if that's your thing! 😉
Now, since the holidays are fast approaching and DriveThru allows me to do book bundles, I've done two. Books of the Immortals – all five e-books at a discounted price or Chronicles of the Varian Empire – all three books at a discounted price. Both bundles have a PDF, an e-pub and a mobi file you can choose from. You might need to be logged in to see the offer, since some books have adult content.
No names, no jackets closed down, so I took out the links to the free excerpts from the page above. Sniff. We'll miss them. I might try to submit a few (not all) books to Bukfaze now. Maybe during the weekend, or maybe next year. I'll keep you posted.
Writerly links: David Gaughran on Write. Publish. Repeat. The special price is gone, but it's probably worth reading anyway. I downloaded the sample on my Kindle, it's very entertaining, I'll probably buy it next year, since we seem to be very likeminded. I wish my TBR pile went down a little (actually, since it's ebooks, it's a list. Neverending, if I add the wishlist from Smashwords and Goodreads. GAH!).
Dean Wesley Smith think like a publisher 2014. I'm still stuck with the 2011 edition because I can't figure out the Italian laws. My publisher friend told me how I should do it, and I can't do it until I have a DayJob. But since things are going down the hill on that front, I might end up quitting and starting da business of publishing instead. At least I'll have a reason to ask a fee to whoever asks me for advice.
And that's all for today! Have a great week!