First announcement: new story up – actually new extended version with new cover. So if you already had bought the 99cents version (one copy sold, so one lucky person), you can now download the novella for the same price from Smashwords. If you've never done that, just go to the purchased book page and download the latest version! 😉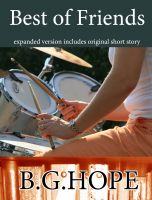 Best of Friends is also available on Kindle and as it was pre-approved for Premium Distribution, you might find the updated version also on B&N (OK, maybe not yet – if you see the 99cents version, that's the old one). As for Kobo, Sony and Apple, I've just requested the ISBN, so it's still making its way there through the Smashwords distribution – my short stories don't have an ISBN, but now that it's a longer work I've added one.
Now, for the next two Wednesdays I won't really be able to post, as I'll be traveling, therefore I'm thinking of posting a short story in two parts. I guess it's too late to ask for guest posts, so you'll have to stick with my fiction! 😉 I'll probably post one "Record of the Varian Empire" unedited – haven't posted a free read in ages. But that's also because I'm not sure if anyone is interested, LOL!
Another announcement… apparently Amazon India is live at last! 😀 I thought it was supposed to start last January… so there you have it, my Desi friends, go and buy BoI-Air and TSK 1 & 2! 😉 Just kidding… but I was looking forward to its opening. Although I'm afraid buying DVDs from there will cost me (mailing expenses) even more than from the US! OK, back to Amazon UK for those… 😉
About interesting links – before I head off and skip reading blogs for 10 days or so. Blood Red Pencil on showing visceral reactions first. When I think of myself, I don't think I'm immediately aware of my own visceral reactions to anything, but I understand what they mean. Will have to work those in more often.
More about what editors are for, and a fun post on LOTR written with other authors' voices. Can't say I appreciate them all, cause I haven't read LOTR and have no idea of who many of those people are (but I did recognize the Gene Roddenberry style before reading the name, LOL! And of course George Lucas – that's sci-fi to me…).
Two articles on publishing – Kris Rusch on royalty statements and Forbes about this brand new world of publishing. Now, next week I'll happen to be in NY and I'll spend one day in Manhattan… I really want to check that espresso book machine! 🙂 Then I'll be off to Chicon7 – and don't forget I'll be making a fool of myself at a couple of panels, so if you're there, check the program for Barbara G.Tarn appearances.
I'll probably go to the stroll with the stars as I love walking in the morning, and definitely the opening night at the Planetarium – which I already visited last time I was in Chicago, but I'd love to see it again on such a special night. So if you come to the con, you know where to find me! 🙂
Now back to writing! And drawing – as I'll have to do without both for 10 days, YIKES! 😀 Just kidding, I won't be drawing this week, so the latest artworks are from last weekend. See DeviantART gallery for details… Have a great week!