I won her book during the Hop Against Homophobia and I must admit I had mixed feelings about it. My GR review of First Impressions Don't Count:
On one hand it was too slow-paced for my tastes, too much "boring" description (but then, I'm someone who hates descriptions, so I found myself skipping paragraphs of foods, clothes or even – I don't know – glass-making or how to ride a bike) and felt as if the author has done a lot of research on various things and had to put them all in the novel.
The extended families with many names – often quite similar – were also sort of confusing (and I often wondered "Who's this again?") and sometimes it was a bit repetitive – OK, much like real life, I guess.
On the other hand it was funny and poignant and the interactions between the characters was endearing. I chuckled during most dialogs and it's a sweet romance.
So, I don't know who to recommend this to… m/m romance lovers? Romance lovers in general? Dunno… check a sample and see if you like it!
I still wished to know the author better, so I wrote to her and asked her if she'd like to be interviewed. She said yes, and now I'm even more in awe of her. The interview came back with a little premise: Excuse me if I get a bit long winded.
She's not, really. I've had worse! 😉 Ladies and gentlemen, please welcome A.T. Weaver!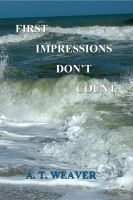 B. Where do you live and write from?
A.T. I live in an independent living facility for the elderly in Olathe, Kansas. We're very sensitive about the way the name of our town is pronounced. It's Oh-lay-tha, which is a Shawnee Indian word meaning beautiful. Olathe is located twenty miles southwest of downtown Kansas City, MO on I-35 and is where the Oregon, California and Santa Fe Trails crossed. Olathe is home to the only stagecoach stop on the Santa Fe Trail still open to the public.
In the 1990s we went from a population of approximately 17,000 to over 100,000 in ten years.
Q. When did you start writing?
A. Back in 2003, I was unemployed and living with my son and his girlfriend. I got hooked on a TV show called Boy Meets Boy and ended up in a Yahoo group with over 3,000 gay men. After the show was over, we continued to talk and they educated me to the problems facing the LGBT community. They also recommended books and movies for me. I discovered most gay stories had some type of tragedy involved. When I decided to try my hand at writing, one of the guys said he would love a book where the boy meets the boy and they ride off into the sunset together.
I also became very vocal in regards to equality. My kids think I've lost my mind. I attended my first ever protest rally in 2008 after Prop 8 passed in California.
Q. What genre(s) do you write?
A. I write about gay men. I do not write erotica. I don't want my teenaged grandkids picking up one of my books and saying, "OMG, my grandmother wrote that!" I try to write stories that show gay people are no different from straight people. After all, don't we all want 'someone to laugh with us when we're happy, someone to cry with us when we're sad and someone to grow old with us?'
Q. Where do you find your inspiration? Do you put yourself in your stories?
A. A lot of my plots come from stories my friends tell me. Like in First Impressions where Jenny carries Dave's babies for her brother. That came from one of the guys in the Yahoo group.
The only part of me that goes into my stories is my sentiment.
Q. Do you have a specific writing routine?
A. No. I wish I did.
Q. Outliner or improviser? Fast or slow writer?
A. I guess you'd say I'm an improviser. I tend to write scenes and then put them together. I know what I want to happen, I just have to get from here to there.
I've written three books in nine years so I'd say slow.
Q. Tell us about your latest book

A. My latest book is called Catriona's Curse and I don't really know where the idea came from. It started out to be a ghost story but then I changed it to reincarnation. It's set in modern Boonville, MO. with flashbacks to the era of pre-Civil War, World War Two and Women's Suffrage.
http://www.amazon.com/Catrionas-Curse-A-T-Weaver/dp/1470039168/ref=sr_1_1?s=books&ie=UTF8&qid=1339524463&sr=1-1
or
https://www.smashwords.com/books/view/102867
Q. Indie publishing or traditional publishing – and why?
A. I've gone with self-publishing because I couldn't get anyone to read my first manuscript. After paying $500 to have my first book published, I started using Create Space.
Q. Any other projects in the pipeline?
A. Right now I'm working on two stories. One is about a young man who 'comes out' by breaking the nose of a soccer teammate and a few months later meets his dream man. Mike is twelve years older than Danny. Again, I've based that part on couples I know where one partner is considerably older than the other.
The other story is a paranormal short story. It's about a werewolf (or maybe a shifter)
Q. What is your goal as a writer and what are you doing to achieve it?
A. I'm 69 years old so I don't really have any goals. I just write to keep my mind active and me out of trouble.
Barb says: This last answer awed me. I've seen much younger writers shy away or balk at indie publishing because they felt it's too hard (or they sign with Publish America thinking they're smart – and then they whine and lament their company sucks. Duh). And they're born with technology. And unlike "elder" friends who got lost with paying services, this lady could be my mom and she used technology to keep herself young, along with the writing. My lady, I bow to you! 🙂 Happy writing and many sales to you!  🙂