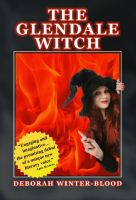 So, here's the review of my last (for now) ebook read, The Glendale Witch by Deborah Winter-Blood.
I'm not really in the target audience for this book, but it is well written and fast paced and with some underlying humor (unless it's the cynical adult me who saw it). Recommended for all YA readers, but mostly girls. Ever wanted to be a witch? This is the book for ya!
I can add that there was some omniscient narrator, but it was well done, although some editor might say the head hopping was jarring – it wasn't. Also, if it were me at 17 I'd have jumped at the prospect of being a real witch… those teenagers who don't believe in faeries can only make things harder for themselves, haha!
Anyway, the author kindly submitted herself to my usual nosy questions… ladies and gents, please welcome Deborah Winter-Blood!
Where do you live and write from?
I'm a bit of a gypsy.  I'm from California, but I've lived all over the West Coast of the United States.  I'm currently living in Oklahoma, USA.
When did you start writing?
I started writing stories as soon as I could hold a pencil.  My first published piece appeared in Highlights for Children Magazine when I was a teenager.
What genre(s) do you write?
I mainly write short fiction with rather dark and oppressive themes.  "The Glendale Witch" is my first foray into the Young Adult genre.
Where do you find your inspiration? Do you put yourself in your stories?
The inspiration for "The Glendale Witch" came from an idea my boyfriend (author Mickey Mills) mentioned to me.  Since I'm a witch and a writer, he suggested that I consider writing a novel about a witch.   I don't put myself as a character into any of my work, but until "The Glendale Witch" my writing was largely drawn from my own life and my own experiences.
Do you have a specific writing routine?
While writing "The Glendale Witch" I set myself a goal of 5000 words per week.  Every evening after dinner I'd sit down to devote at least two hours to writing.  That's the quietest part of my day.
Outliner or improviser? Fast or slow writer?
I'm not an outliner, that's for certain!  Sometimes I'll have no idea where a story or a chapter is going until I'm in the middle of it.  I write quickly and edit heavily.
Tell us about your latest book
"The Glendale Witch" tells the story of seventeen-year-old Celeste Needfyre, a typical American girl whose life is turned upside down when she discovers that she is the last in an ancient line of powerful witches known as Guardians.  The Guardians disappeared almost twenty years before, having been taken prisoner by a demonic creature.  Celeste must travel through the fantastical elemental worlds of fire, water, air and earth to save her ancient kin, but when she arrives at her destination she finds herself in sympathy with the dark creature she is there to destroy.  It's a fantasy tale full of strange beings, some mythological creatures, three love stories and a talking iguana, embellished with humor and touching upon poignant global environmental issues.
Although it was written for a young adult audience, the response to "The Glendale Witch" from readers aged nine years to middle-age has been overwhelmingly positive.
Indie publishing or traditional publishing – and why?
The publishing industry is changing quickly and indie is definitely the way to go for emerging authors.  The Internet has made self-publishing and self-promotion so readily available that it would be foolish not to take advantage of those opportunities.
E-books are the future.  That's sad to me, since I love the tactile sensation of holding a book – I love the feel of a novel in my hands.  But I foresee a time when print becomes a quaint relic of the past, which will mean the end of traditional publishing houses.  As I mentioned to an author friend of mine recently, independent authors are the new publishing industry.  We find ourselves banding together to promote, assist and inspire each other.
Any other projects in the pipeline?
I'm working on an anthology of my short fiction called, "Angels and Other Dark, Deadly, Silly Creatures" which I hope to see published early in 2012.  And the outcry for a sequel to "The Glendale Witch" is so clamorous that I'll have to start on a sequel very soon.  In the meanwhile, I continue to write short stories for publication whenever the inspiration strikes.
What is your goal as a writer and what are you doing to achieve it?
Like most writers, my goal is to be able to leave my current profession and support myself by writing.  Like any other career goal, it takes dedication and determination.  I keep writing.  I continue to amass publication credits and my fair share of rejection notices, and I never lose faith that someday I'll be a fulltime writer.  I just keep plugging away at it; that's all any of us can do.
Well, then, there you have it… another author plugging away! Best wishes and tons of sales, Debi! 🙂