OK, I was supposed to have a guest today, but apparently some email got lost and his blog tour postponed (stay tuned, though, as he'll be here in October), so I thought I'd post here my latest review with a little P.S.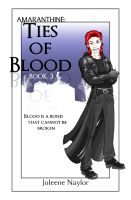 The review: Ties of Blood by Joleene Naylor

It's good to be back in this world. It's bad it's not the last book and the happily ever after seems so far away. I KNOW the next thing on Jorick and Katelina's schedule won't go as smoothly as they plan! And I'll have to wait until next year? Yikes! That's torturing your readers!
Anyway, another dose of fun AND gore with the right amount of sex and action was very welcome… Did I mention that Jorick has become my favorite vampire? And I have mixed feelings about the newcomer, red-headed Verchiel… much like Katelina!
My addition for the Blog only: The Kindle version downloaded from Smashwords has black squares at the beginning of the chapters instead of the neat little image that comes out in the PDF. Mysteries of the Meat Grinder, I guess…
Now, I still have three or four spots to fill in October. If you're a writer (published or unpublished) and would like to be interviewed, drop me a comment. If you're a blogger and would like to do a guest post on why you blog and how frequently and all that blogging life we all so much love, do the same. I might ask a few friends if they're available to fill the spots, but I'd rather give you, my reader old or new, the opportunity to fill in! 🙂
Oh, and please go to Misty's blog and vote for the best "animal" post – yes, I'm there too with my only animal character, Maya the elephant, but the other entries are so great I had trouble choosing one! You have until Sunday to cast your vote…