So here's the review of the novel mentioned yesterday, The Changeling King by Noor A Jahangir.
This is e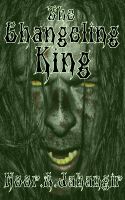 pic fantasy fantasy at its best, with visitors from Earth thrown to an alien world and viceversa. Action and humor are intertwined in a style I found very original and sort of old fashioned (reminding me of 19th century British novels) but good. It's the first of a series but has a kind of close in spite of the open ending. I might enjoy exploring this world again in the future, especially for the British flavor.
Now the author was kind enough to answer my usual nosy questions… so, ladies and gents, please welcome Noor A Jahangir!
– Where do you live and write from? Tell us a little about yourself.
I live in Great Harwood, a small town in Lancashire, England. I was born and raised in Lancashire. My father immigrated from Pakistan after WW2 and worked in the cotton mills for twenty years. At age 11, I was packed off to an Islamic boarding school to train to be a Muslim scholar. This wasn't a posh boarding school with societies and high teas. It was more chores and keeping your comic books safe from the rats type of boarding school. I wasn't too happy with the arrangement so I turned to fantasy fiction for my solace. Three years later, I began the first draft of my novel, The Changeling King. After boarding school I went to study English with Media Studies and Creative Writing at Buckinghamshire Chilterns University. I graduated with honours and went to work as a senior-manager in the non-profit sector, which is what I'm still doing today.
– When did you first become interested in becoming a writer? What was the deciding moment for you?
I first became interested in writing at the age of 7. My teacher read The Lion, the Witch and the Wardrobe to my class. I was spellbound. I knew then that I wanted to be a writer and inspire others with my stories. I used every opportunity to practice my writing and read everything I could get my hands on. The local library became a haven for me. But it wasn't until I was 14 that I attempted my first novel.
– Where do you find your inspiration?  Do you put yourself in your stories? (I sometimes do… ;-p)
I think being constantly homesick was one of my main inspirations. That and C S Lewis and Dungeons and Dragons. I was reading a lot of books at the time so its a little complicated to sort out who inspired what, but I would say J R R Tolkien, Raymond Fiest and David Gemmell were at the forefront of authors I enjoyed reading at the time.
– What do you love most (and then least) about what you do?
That first spark of inspiration when a story comes to you, the excitement of discovering pieces of the puzzle that will eventually form the plot and the characters. I love that feeling. If books could write themselves, I would be happy just hatching the initial ideas. The least pleasant thing about writing is how unhappy you are all the time when you're not writing, or when you want to write but nothing worthwhile is pouring out from your fingertips. That and opening rejection letters and emails.
– When and where do you write? Do you have a specific routine?
I write from my study, which is also my library, my games room, and when I can shift enough junk and books out of the way, a place to entertain guests. I write mostly in the evenings, after the wife and kids have gone to bed and on the weekends, after I've done my chores. I also try and keep a notebook with me or a my tablet so that I can slyly squeeze in writing at lunchtimes or when I arrive early for a meeting.
– Do you have any other project on the pipeline?
I'm working on the sequel to The Changeling King, titled The Renegade Prince. I'm also working on a YA adventure series and a couple of short stories that have got my creative juices flowing.
– Did you query agents/publishers before publishing? If yes, for how long?
I queried every agent and publisher in Britain who publish YA fiction in the directories and online listings. I tried a whole bunch of indie publishers too. I did that for three years before deciding that the global recession had messed up any chance of me getting published any time soon. Luckily, I have some good writer friends like Nerine Dorman, who pointed me in the direction of Smashwords. I did my research and took advice from authors like David Farland and then went ahead and published my novel. My only regret is that I took so long coming to the table.
– What was your overall experience with self-publishing so far?
Despite my research I didn't realize how hard it is to market a book, especially when you've self-published. I've met a lot of nice people (like Barbara) who have kindly offered to write reviews and do the author interviews. Its still early days yet and I'm hoping that the sales pick up as word gets around. I'm just waiting for the world to wake up to it.
– Anything else you'd like to add?
I'd like to offer some advice to people who may be at an earlier point in their journey. Don't give up. Write often. Edit thoroughly and network with other writers. Never ignore good healthy criticism and don't take to heart what the nay-sayers say. Its not going to be easy but its a journey worth making.